You have definitely spent a lot of time and resources planning for your wedding. At this moment, your desire is to make this most important day of your life successful. However, have you thought about the transport arrangement that is most appropriate? In Los Angeles, people attach a lot of importance to the kinds of vehicles used at a wedding. Because of this, you need to contact us and get the most appropriate Los Angeles wedding limo service. This is the only way you can add that missing style, elegance and luxury aspect to your wedding.
Wedding Limousine Rental Los Angeles,CA
Maybe, you are asking yourself why you should hire limos from us. Indeed, you must have heard of many other companies that offer the same services. However, one thing that you need to know is that even though there are many companies, it is unlikely that all of them will give you the kinds of vehicles that you need. In fact, you will be surprised to learn that many of these companies do not even come close to what you need.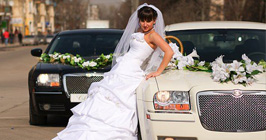 This is the reason why you should choose our company and avoid the risk of ending up with the wring vehicles at your wedding.
Wedding Limousines
The best thing about our company is that we have enough vehicles for you. Whether you are looking for one limousine, ten of them or even more, you can be sure that we will gladly provide them. One thing that we have noted throughout our years in this business is that some companies hardly have enough vehicles for their clients. If you go for such, then you definitely will have to deal with the inconvenience of having to contact several companies before you get the right number of limos that are likely to suit your wedding event.
Owing to the importance that people in Los Angeles attach to wedding, you have no choice but to get an excellent Los Angeles Wedding limousine service. At LA Limo Pros, we give you our word. You only need to see what the others who have been using our vehicles say about us to know that we are not the ordinary company that can turn your wedding into a mess. In fact, we go to the extra mile just to ensure that the most important day of your life does not turn out to be an embarrassing moment for you, your spouse, your family or even the guests.Before your wedding also think about Los Angeles bachelor party limousine service